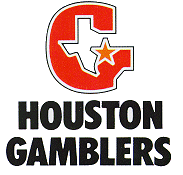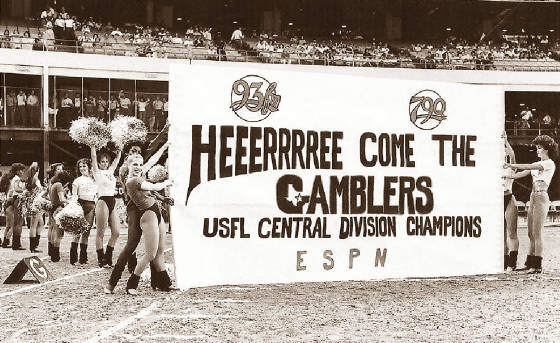 The web's biggest and best Houston Gamblers site!


High-octane football was the name of the game.


With an offense good enough to shred the record books, and a defense good enough to leave a fair share of bruises on the opposition, "fun" is probably the word best used to describe watching the Gamblers franchise of 1984-85. Hall of Fame quarterback Jim Kelly and offensive coordinator "Mouse" Davis led their group of blistering-fast receivers in the first professional run-and-shoot attack.
Join the Official

Houston Gamblers

Facebook Group!

Join us and be a part of the Gamblers family.

Players, staff, fans and the team historian... You'll find all of us actively participating in the group!

PLEASE NOTE that the current Gamblers-related conversations and updates are happening in the Facebook group. We'll see you there!
A look at Toni Fritsch's1984 Gamblers contract!
Click the photo to see how much Toni made that year!

Head Coach Jack Pardee
1936 - 2013
Click the photo to remember our Coach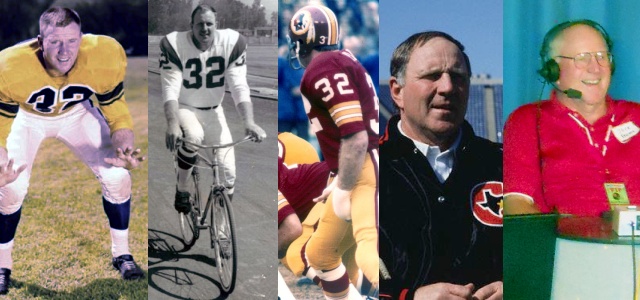 Coach Pardee at the Gamblers Reunion in 2010
The 2010 Gamblers Reunion
"Mouse" Davis, Jack Pardee, Jim Kelly and the boys from Sports Radio 610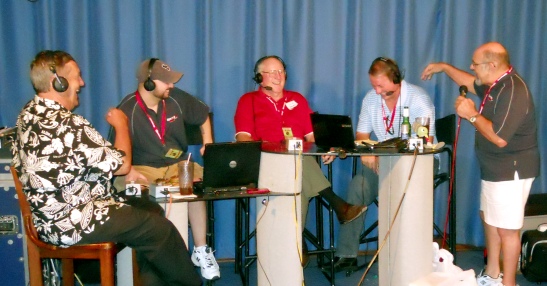 Houston Gamblers at Los Angeles Express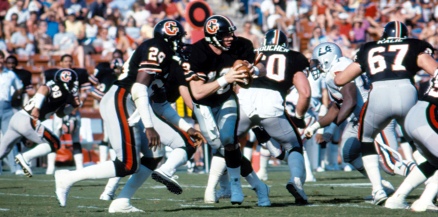 Future Pro Football Hall of Fame quarterbacks Steve Young and Jim Kelly found themselves squaring off in the 1985 season opener, which quickly turned into an exciting, gun-slinging free-for-all. Unfortunately, the ABC television network cancelled their planned broadcast of the game in favor of Doug Flutie's New Jersey Generals debut. In fact, the only transmission of this game aired in parts of Texas, as heard over the stations of the Houston Gamblers radio network.
We are very proud to offer excerpts from that original radio broadcast, featuring Gamblers announcers John Greer and Ed Biles. These rare sounds have not been heard publicly since Feb. 24, 1985, the date of the original broadcast. Also included are behind-the-scenes chats between the announcers during commercial breaks! So strap in, get ready to travel back to the year 1985, and ENJOY!
"SUPER AGENT: The One Book the NFL and NCAA Don't Want You to Read" by Gamblers Founder Dr. Jerry Argovitz

Order this expolsive book through Amazon.com by clicking here!

Listen to the Dr. Argovitz interview by David "Mad Dog" Demarco on WVFN 730AM!

Jerry Argovitz Radio Interview

Watch Dr. Argovitz' television appearance on CBS This Morning!
Country music star Kenny Rogers named them.

Hall of Famer Jim Kelly quarterbacked them.

Texas football legend Jack Pardee coached them.

Business tycoon Donald Trump purchased them.

We're talking Houston Gamblers football.
New Video Blog for March 2013
The "Super Agent" book by Dr. Jerry Argovitz, busting two packs of 1983 Topps football cards and a surprise package from Gamblers All-Time Team Member Scott Boucher!
Anthony NunezHouston Gamblers Historian

Welcome to the place where the USFL's Houston Gamblers are alive and well! I have worked countless hours with team owners, players, coaches and admin staff to bring the best possible site to you, the true USFL fan! Check back from time to time, as the site is continuosly updated. Enjoy the many assets you will find here, and feel free to direct your Gamblers questions here.
Chronicle reporter Lise Olsen and the Gamblers family are trying to identify this homicide victim from 1987
Looking back at

The Gamblers 2010 Reunion
Houston-Gamblers.comis proud to announce the arrival of

The Greer Audio

Collection

Original game broadcasts from the one and only "Voice of the Gamblers!"
Gamblers Lineman

Scott Boucher

is available to speak at your event!Click the photo for details.
Thirty years after the birth of the USFL, it remains difficult to find information about the players and staff members who brought Houston's legendary franchise to life. Houston-Gamblers.com was created to be a one-stop reference library for casual and dedicated fans alike, as well as a resource for collectors who are looking for info about Gamblers memorabilia.

Bringing fans and players together is one of the main reasons for this site. Be on the lookout for videos, interviews and general updates. And, most importantly, we want to learn YOUR story -- don't forget to email us your memories!
April 7, 1985

The Meadowlands, New Jersey

All-Pro Safety Luther Bradleyon the field before the game

versus the New Jersey Generals

 
| | |
| --- | --- |
| | The Houston Gamblers Original Document Library |
7-01-84 (Divisional Playoff) Wranglers at Gamblers - Houston moves the ball on their first offensive drive of the game.
An Exclusive Collectable Set!

Gamblers Series I Postcards
Houston-Gamblers.com Video Blog
Rare, early team footage taken from the VHS tapes donated by Gamblers Owner Dr. Jerry Argovitz
Opening a mystery package from Gamblers Owner Dr. Jerry Argovitz on Aug. 10, 2010
A final look at the Gamblers Reunion held June 12, 2010
An Unintended Consequence

We never expected this to happen when we started the website -- but it has happened SEVERAL times!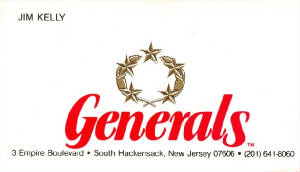 Jim Kelly Business Card
Yes, Jim Kelly as a New Jersey General. If there had been a 1986 season, it would have happened!
Check out the latest

Houston Gamblers Interviews

Houston Gamblers Player (1984)

Houston Gamblers Player and Ticket Sales (1984)

Birmingham Stallions Player and Ticket Sales (1983, 1985)