1986 Jim Kelly Business Card (Nov./Dec. 2010)
We all know that Donald Trump guy. Well, he purchased the Gamblers organization, and the Generals and Gamblers teams were to merge for the 1986 USFL season. Quaterback Jim Kelly even did a photo shoot in a Generals uniform and wound up on the cover of Sports Illustrated's July 21, 1986 issue. We can only imagine the results of combining two powerhouse teams into one "super roster," but the ill-fated 1986 USFL season was never to happen. We uncovered a cool collectible from this period, however, and present to you this Jim Kelly Generals business card. We have no way of knowing how many of these were given out, but feel like there can't be too many out there.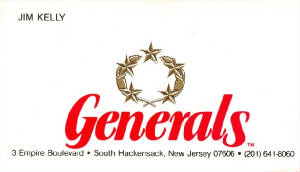 1984 Highrollers Promotional Photo (Sep./Oct. 2010)
Promotional photos issued by the Gamblers are hard to find. We own just two different ones as of this writing -- the Jim Kelly "card" that was our Featured Item for July/Aug. of 2009, and this black and white 8x10 photo of the 1984 Highrollers (thanks to Scott Boucher for giving it to us). There's not tons of secret information to reveal about the photo, but it was apparently given away by the squad at personal appearances and other team-related functions. We would love to know if other promo pics issued by the teams exist (players, staff or Highrollers), and will keep our eyes peeled. Learn more about the Highrollers on their page.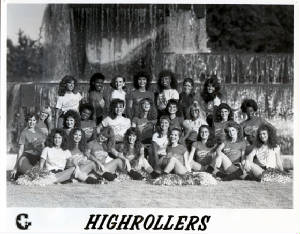 1984 Gamblers at Blitz Ticket Stub (Jan./Feb. 2010)
The Blitz' home opener was quite an exciting affair. Played on March 11, 1984, it was the third game of the season and was played in frigid conditions. Gamblers running back Sam Harrell established the USFL single-game rushing record with an even 200 yards on 20 carries (a record that was later broken by teammate Todd Fowler), and also scored an impressive three touchdowns. Gamblers wide receiver Ricky Sanders established himself as a starter with four receptions for 119 yards and a touchdown. Jim Kelly continued to shape his quickly-growing star reputation by throwing for 229 yards and three touchdowns. The Gamblers won the game 45 - 36, and would go on to play their home open in the Astrodome the following week against the Generals. Unfortunately, no game video of the Gamblers/Blitz game is available at this time.
1985 Gamblers Season Ticket Brochure (Nov./Dec. 2009)
Exciting color action photos. Cool player writeups. An informative map of the Astrodome. And a ghoulish painting of Jim Kelly rolling a pair of dice. What else could you want in a season ticket brochure? The brochure, which is roughly the size of a standard sheet of copy paper, is folded into thirds and features a grey background on four of the six panels. Jack Pardee, Toni Fritsch, Kiki DeAyala, Jim Kelly, Richard Johnson and Pete Catan are spotlighted for their exceptional play in 1984. Oh, how I wish I could go back in time and pay a princely $117 for season tix for the best seats in the house ($13 per game). The club required one-third of the package price to be paid by December 1, 1984 and the rest was due by January 15, 1985. If you have any other ticket-related questions, please contact Gamblers ticket seller/player/friend Joe Bock.
1984 Gamblers at Outlaws Game Ticket (Sep./Oct. 2009)
The Oklahoma Outlaws were an underappreciated, one-year USFL team. Led by veteran quarterback Doug Williams, the expansion Outlaws won six games in 1984. One of those wins came on March 31 against the Houston Gamblers, in what proved to be a hard-fought overtime contest. A respectable 17,266 fans were present at Skelly Stadium in Tulsa that day. The beautiful red, black and white colors on the ticket make it a nifty collectible that begs to be displayed! Independent Houston television station KTXH 20 broadcast the game live, but to our knowledge, only brief highlights of the game are in circulation today.
Circa 1984-85 Jim Kelly Team Issue (July/Aug. 2009)
"Team Issues" were (and still are) commissioned directly by individual sports teams, with the intention of selling them or giving them away to fans. A quick scan of The Standard Catalog of Baseball Cards shows that the Chicago White Sox issued a team set of 25 players in 1917, making this one of the earliest known team issues. In the 1970s and 80s, team issues were usually printed on photo paper and measured anywhere from 3 1/4 by 5 1/2 inches to 8 x 10 inches. Most team issues are NOT documented in reference books because little is usually known about which players were featured, the years they were produced, and which variations or short-prints may exist in any given set.
After years of searching, Houston-Gamblers.com has found only one Gamblers team-issued card. It features Jim Kelly, and pictures him wearing his home black jersey. Printed on photo paper, it measures 4 15/16 inches across by 6 15/16 inches tall (we're being technical here... it's basically 5x7). The reverse side is blank except for very light watermarks that read "This Paper Manufactured by Kodak." Our guess is that these Kellys were mailed to fans who wrote to the team office. While it's possible this team issue is the first professional card ever produced for Jim Kelly, we have no concrete way of knowing exactly when it was released. Anyone with information on this card (or others) is encouraged to email and tell us what you know!
Update (07-04-2009) -- USFL historian Tom Hefner has confirmed that other players were issued by the Gamblers. More info to follow...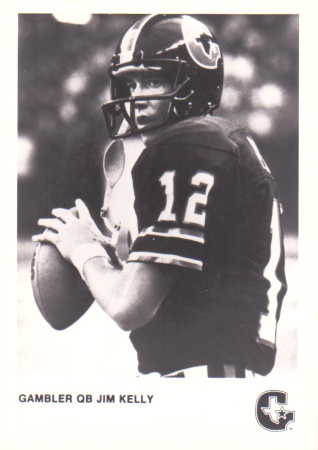 1985 Mobil Gas Gamblers Stickers (May/June 2009)
We believe these stickers were given away at Houston-area Mobil gas stations during the early weeks of the 1985 USFL season. Two versions of the sticker exist, with the only difference being the "Mobil" logo near the top. One version surrounds the logo with a white rectangle, while the second version has the logo against the sticker's black backdrop. Both sticker backs are exactly the same, and the size of each sticker is approximately 4 1/2 inches tall by 3 3/8 inches wide.
Sticker backs contain two promotions. The top of the sticker back acted as a coupon for "Mobil Day at The Dome," which was held on Sunday, March 24, 1985, against the Portland Breakers (Week 5 of the season). Those who presented the coupons at the Main Astrodome Ticket Office were given a 50% discount on up to four Upper Reserved seats for the game. The bottom of the sticker back was a mail-in offer to win a free pair of Skybox tickets to the same game (including food and drinks).
Gamblers fans were not disappointed that day, with the home team pulling off an exciting 27 to 20 win over the Breakers.
Oval Patch (March/April 2009)
The Gamblers, along with all the other USFL teams in existence circa 1983-84, were featured on a set of large oval "patches." Measuring seven inches long by five inches wide, these borderless patches were intended to be framed inside oval-shaped wall plaques. It seems that more patches were produced versus the number of plaques actually created, and today these patches are somewhat easy to find in new, unused condition.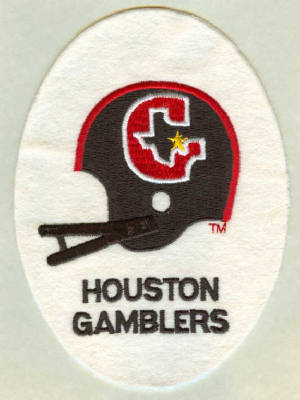 1985 Topps Richard Johnson Card (February 2009)
Richard Johnson was the perfect receiver for Mouse Davis' "Run and Shoot" offense, and proved it by leading the USFL in 1984 with 115 receptions for 1,455 yards. Johnson's first football card was published the following year as part of Topps' 132-card USFL boxed set. We don't need a professional grading service to tell us we have a nice card, but it sure is nice to own a copy that has been graded a perfect ten by PSA (Professional Sports Authenticators). PSA 10s tend to sell for much more than other grades, but we happened to grab this for a price that put smiles on our faces!
Season Ticket Sticker (January 2009)
We're not sure whether this sticker was issued in 1984 or 1985 (or both years, for that matter). What we do know is that the Gamblers season ticket sticker is a tough find today. As the sticker itself implies, this little keepsake was given exclusively to season ticket holders, and was probably mailed in the same envelope as the season tickets themselves. Measuring approx. three inches by six inches, many of these were undoubtably stuck to car windows and school notebooks way back when. Unless a stash of these walked out of the team's corporate office, it's unlikely that a large number of season ticket stickers will suddenly appear anytime in the future.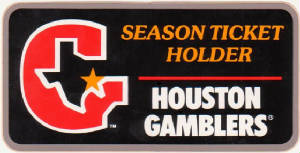 Player Royalty Check (December 2008)
Marketcom of Fenton, Missouri was best known for producing sports posters that were marketed in a partnership with Sports Illustrated magazine. The golden era of these now-classic posters is roughly from 1978-1982, when each poster featured a game-action photo surrounded by a small white border and the player name at the top left of the border. The Marketcom/S.I. poster marriage lasted until 1993, and probably explains why this royalty check was issued to Jim Kelly on April 30, 1991.
Kelly was featured on an S.I. "Signature Series" poster in 1989 (pictured). Marketcom also produced at least three football-related paperback books featuring Jim Kelly in the late 1980s.
Painters Hat (November 2008)
Made by Universal Industries, Inc. in 1984-85, these caps were known as "painter's hats." This style hat featured a red baseball-style bill, a black flat-top panel and a white, flat panel that circled the entire perimiter of the hat. Three Gamblers logos adorned the side panel, alternating with three "HOUSTON GAMBLERS" names in a gray/silver capital letters. Inside the back of the hat is a five-inch elastic strip which allowed it to be "one size fits all." According to the clothing tag found on the inside, the hat was made of 60% cotton and 40% polyester.
These hats can often be found on eBay in new condition. While other USFL teams seem to surface more often than the Gamblers, painters caps are not expensive to buy when they're located.