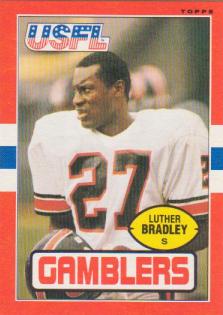 Born: May 7, 1955, Florence, SC

Height: 6-02 Weight: 197

College: Notre Dame

Acquired: 1984 USFL Allocation Draft from Arizona

Pro Bio: Bradley ended his USFL career as a member of the Gamblers in 1985, logging 12 interceptions and ending the season as the USFL's All-Time Interception Leader. Also holds the USFL record for most interceptions in a game (six against the Bandits on April 2, 1983).

Started all 18 regular season and three playoff games for the Arizona Outlaws in 1984... Was the only secondary member to do so... Had four interceptions which tied him with Frank Minnifield for the team lead... His longest interception return was for 16 yards versus Los Angeles... Led secondary with 41 solo tackles and a total of 68... Was an All-USFL Team member with the Blitz in 1983 after picking off 12 passes... Holds the league record for interceptions in a single game with six in 1983 versus Tampa Bay... Also recorded 56 tackles in 1983 while playing in 17 regular season games... Was a first round draft choice in the 1978 NFL Draft by the Detroit Lions... Played in 56 games and had nine interceptions in four seasons (1978-1981) with the Lions... Named to the All-NFL Rookie Team in 1978... Was traded to the Houston Oilers in 1982.

College Bio: Three time All-American at Notre Dame (1975-1977)... Played under Ara Parseghian (1973) and Dan Devine (1975-1977)... Was a consensus All-American as a senior in 1977... Played in all 46 Irish games during his four year career... Was a member of their 1973 and 1977 National Championship squads... Held the school record for career interceptions (17) and interception yardage at the time of his graduation... Appeared in the 1974 Sugar Bowl (24-23 win against Alabama), 1976 Gator Bowl (20-9 win against Penn State) and 1978 Cotton Bowl (38-10 versus Texas).

Personal: Attended Northside High School in Muncie, Indiana... Works as an account executive for a stock brokerage firm in the off-season.

Houston-Gamblers.com Fun Fact: Luther's uniform number is listed as "32" in the Gamblers' 1985 media guide.