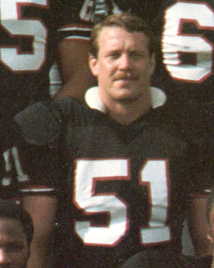 Born: April 26, 1958, San Jose, CA

Height: 6-03 Weight: 250

College: Cal State-Long Beach

Acquired: Gamblers' 4th selection from the Los Angeles Express in the 1983 USFL Veteran Allocation Draft (Sept. 6-7)

Pro Bio: Played for the Gamblers both years of the team's existance... Started at center in six of the seven games he played in during the Gamblers' inaugural campaign... Missed the first two games following a knee injury suffered during a scrimage against the San Antonio Gunslingers...

Competed for the L.A. Express in 1983... Was the club's starting center before an injury in week two... Missed the following six weeks but came back to start eight more Express contests... Prior to joining the Express as a free agent in 1983, Carl logged brief NFL pre-season stints with the Denver Broncos (1981) and Miami Dolphins (1982).

College Bio: Two-year starting center at Cal State-Long Beach from 1979-1980... Won second team All-Pacific Coast Athletic Association honors as a senior... Earned starting berth for the North squad in the 1981 Senior Bowl... Also played two seasons at Medanos Junior College and received All-Conference second team honors.

Personal: Lettered in football,basketball and baseball at Clayton Valley High School... Earned a Bachelor's degree in physical education from CSLB in 1982... Hobbies include camping and hiking.