Curtis DeBardlabon was a sure-handed receiver picked by the Gamblers in the sixth round of the 1985 USFL Open Draft (he was the only receiver to be chosen by the Gamblers in the Open Draft that year). DeBardlabon would make the team, but would see limited playing time in the firmly established receiving corps that already featured Richard Johnson, Ricky Sanders, Clarence Verdin, Gerald McNeil and Scott McGhee. Regardless of the crowded receiving corps, DeBardlabon provided depth for the exciting Kelly-led offensive unit in 1985.
DeBardlabon's daughter, Dinesha, was kind enough to sign our guest book in December, 2008 (boy, that seems like a long time ago!)
Our collection also includes a beautiful DeBardlabon home jersey, which can be seen here.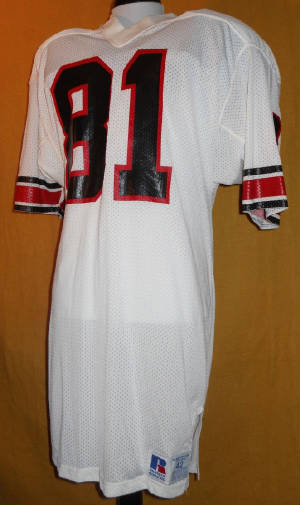 This jersey has all the usual characteristics of a Gamblers white game jersey, and like most other receivers on the team, Curtis opted to wear a looser fitting shirt without spandex sides and full-length sleeves.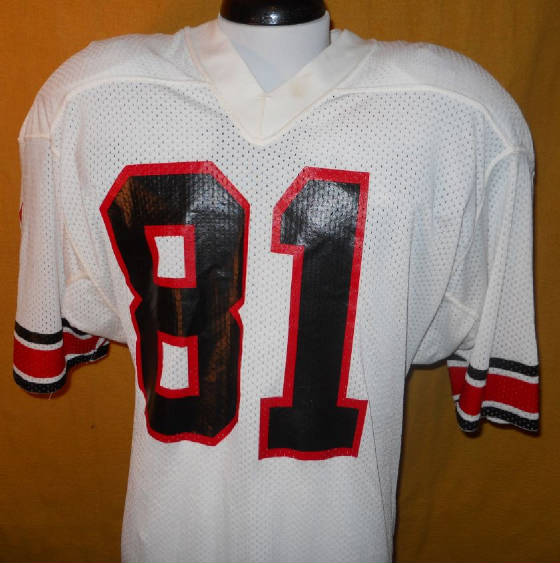 Like so many other of our 1985 white "away" jerseys, the nameplate on the back of this DeBardlabon exhibits a bit of staining. We attribute this to the jerseys probably being unwashed after being used during the infamous Denver thunderstorm that occurred during the game against the Gold on June 9, 1985 at Mile High Stadium. The game was temporarily suspended because of lightning and a torrential downpour, and the conditions that day left both the Gamblers and Gold run and shoot offenses with low totals for the day.
The Gamblers white jerseys were never used again, as the final three games of the season were played in the home blacks.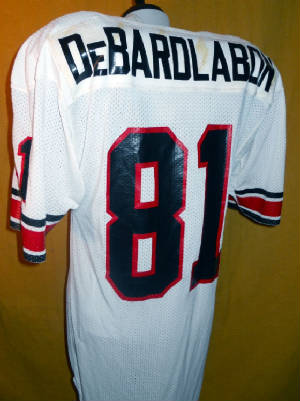 A closer look at the stained DeBardlabon nameplate.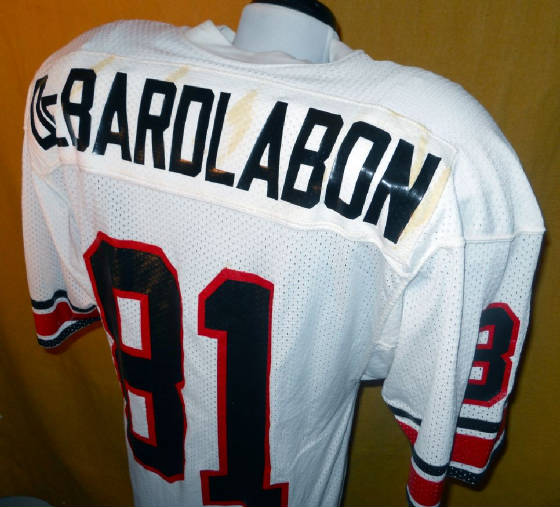 As is the case with every legitimate Gamblers jersey that has not been shortened, a no-frills Russell manufacturer's tag is found in the front left tail.