Curtis DeBardlabon was a sure-handed receiver picked by the Gamblers in the sixth round of the 1985 USFL Open Draft (he was the only receiver to be chosen by the Gamblers in the Open Draft that year). DeBardlabon would make the team, but would see limited playing time in the firmly established receiving corps that already featured Richard Johnson, Ricky Sanders, Clarence Verdin, Gerald McNeil and Scott McGhee.
DeBardlabon's daughter, Dinesha, was kind enough to sign our guest book in December, 2008!
Feel free to check out Mr. DeBardlabon's white "away" jersey, which can be found here.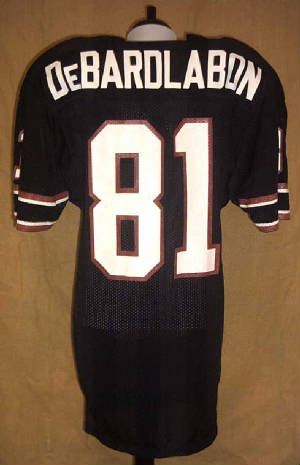 A frontal view of the jersey. As would be expected, it shows light game use. The most noticeable wear consists of a collection of small holes near the left bottom of the front tail. Our guess is that the holes are a result of the jersey rubbing against pads or other material inside the pants.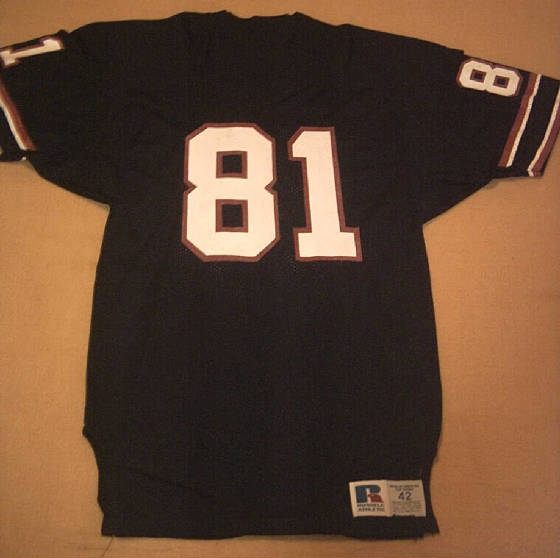 The numbers and nameplates of Gamblers jerseys were screened by a local Houston branch of Oshman's Sporting Goods, and often the number "8" would turn out a bit unique. All the "8s" on this particular jersey turned out quite normal, which makes the item much harder to photo match to a particular game.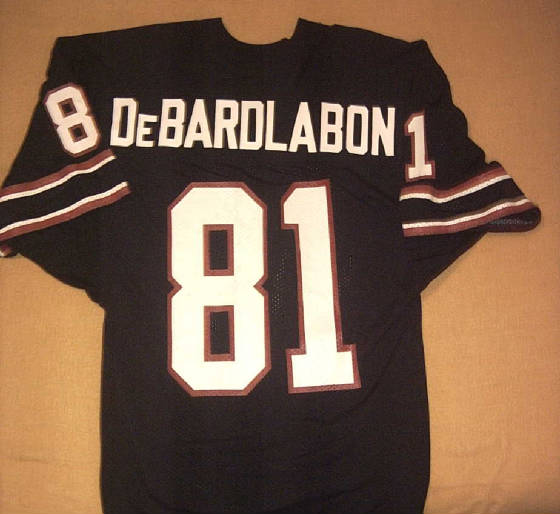 A close-up view of the right sleeve.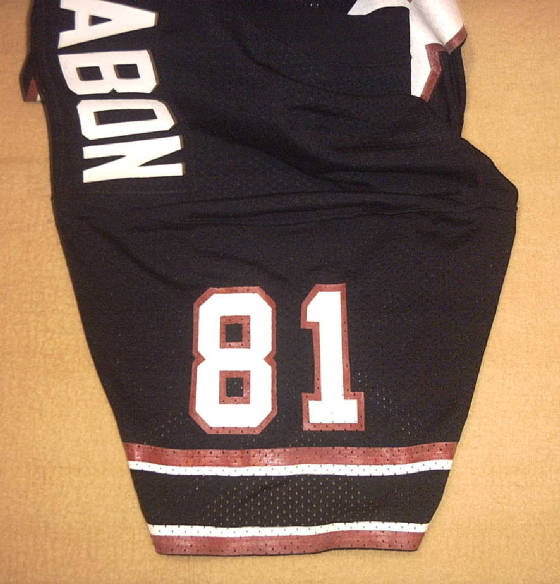 Here's something we haven't seen before... The left bottom of the Russell tag has been damaged, and the rear stitching has been removed from that area. Our guess is that a "100% Nylon" tag may have been removed from here, but these small tags -- when found -- are usually centered along the bottoms of the Russell tag, rather than closer to one of the sides.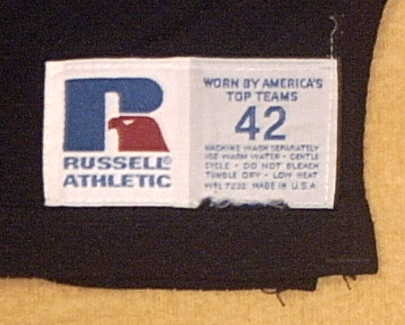 Here's a back view of the Russell tag, showing where the thread has been methodically removed from jersey. One has to wonder what the heck happened here... and why!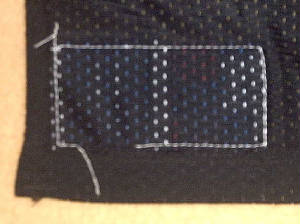 Back to the Game Used Museum Menu