Mike Mitchell was a defensive backfield warrior for the Gamblers during both campaigns, and also saw time with the special teams unit. We are happy to have examples of both a black jersey and white jersey worn by Mitchell in our collection. The white "away" jersey is believed to have been worn during the 1985 season.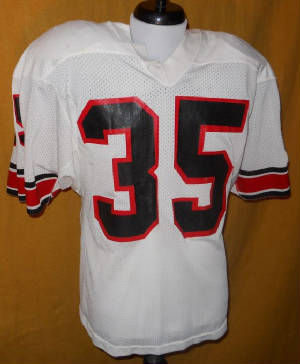 The jersey shows light usage and has no team repairs. A few contact marks can be seen at the base of the right shoulder, on the side of the number "3" (Mitchell's farovite tackling shoulder). Also present on the jersey are the trademark large, roomy sleeves.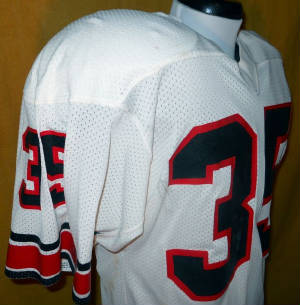 A rear view of the shirt, which gives a nice view of the custom-shortened body legnth. It is our opinion that the short hem was done at the Russell Factory, and the manufacturer's tag usually found in the tail is not present. The "MITCHELL" nameplate and numbers were added by a local Oshman's Sporting Goods outlet.
It is interesting to note that many current NFL players have their jerseys shortened in a similar fashion. The main difference is that today's short jerseys usually have a spandex lining across the bottom to help prevent the jersey from having an illegal untucked appearance.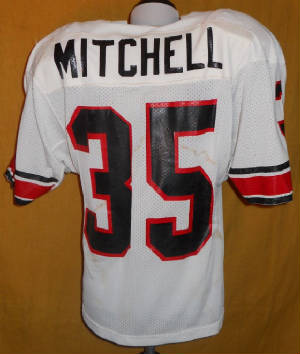 Brown water stains are present across the back of the jersey. This type of staining is consistant with stains found on other Gamblers jerseys that were used during the game in Denver, Colorado on June 9, 1985. A torrential downpour and lightning storm caused a delay to the game, which was eventually won by the Gold with a score of 16-13. It was the last time the Gamblers would wear their white jerseys, and we doubt they were washed after the contest.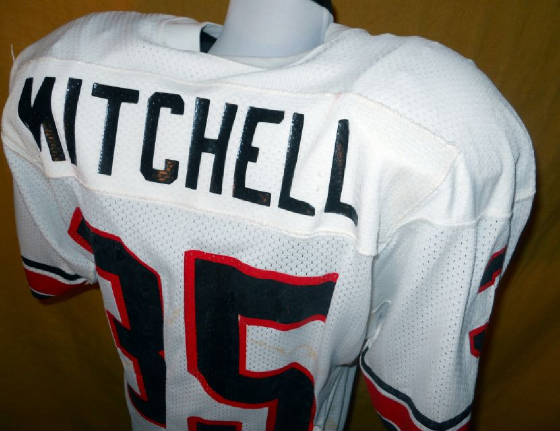 Back to the Game Used Museum Menu