What do we know about Dallas Cowboys jerseys? Well, not much -- and we won't act like we do. What we DO know, however, is that this home blue Cowboys jersey was worn by Gamblers career rushing leader Todd Fowler in 1986, after his USFL playing days.
Playing for the Cowboys was both a blessing and a curse for Fowler. Texas Stadium in Irving was less than 100 miles from his home town of Van, Texas, which meant that after a typical Sunday home game, Fowler could make the drive home in plenty of time to watch "Family Ties" (or "Spenser: For Hire," perhaps). On the negative side, as a running back he found himself taking a number behind Cowboys legends like Tony Dorsett, Herschel Walker (Fowler's training camp roommate for three years) and Timmy Newsome. Eventually moved to the tight end spot, Fowler still saw little action thanks to Dallas veteran Doug Cosbie.
During his four-year NFL stint with Tom Landry's Cowboys, Fowler rushed just 16 times for 36 yards and caught 17 passes for 113 yards. He did see considerable time with the special teams unit.
The nameplate has been removed from the back of the jersey, and we believe this battle-worn relic may have ended its service to the team as a practice jersey due the level of wear found in the shoulder area.
A close-up view of the tagging. Found on the outside left tail of the shirt is the typical 1980s Russell Athletic tag, with a "100% Nylon" flag attatched below it. Specific to Cowboys jerseys of the era is a rectangular tag sewn above the Russell logo that reads "Especially Made For Athletic Supply, Dallas-Abilene-Odessa." We believe the tag refers to Athletic Supply Inc., which still has outlets in Abilene and Odessa today.
We should note that this jersey is tagged as a size 46. It does not have spandex sides, meaning it is a "true" size 46 (from what we have seen, a number listed on the size tag of a Gamblers jersey with spandex sides is worthless -- these jerseys are much tighter than the size tag indicates).
Another view of the jersey front. Todd Fowler himself recently commented on the jersey, and confirmed the presence of the custom-shortened sleeves he wore on all his gamers. As far as we can tell, the sleeves were customized at the Russell factory.
Since obtaining this jersey a few years ago, we have wondered what the white markings were in the shoulder-area of the jersey. Well, whatever it is got there while Fowler was wearing it! We just found a photo of Todd from 1986 which shows him wearing this very shirt -- and the white stains match perfectly! You can also see a major repair to the jersey just below his left shoulder, which also matches perfectly with ours.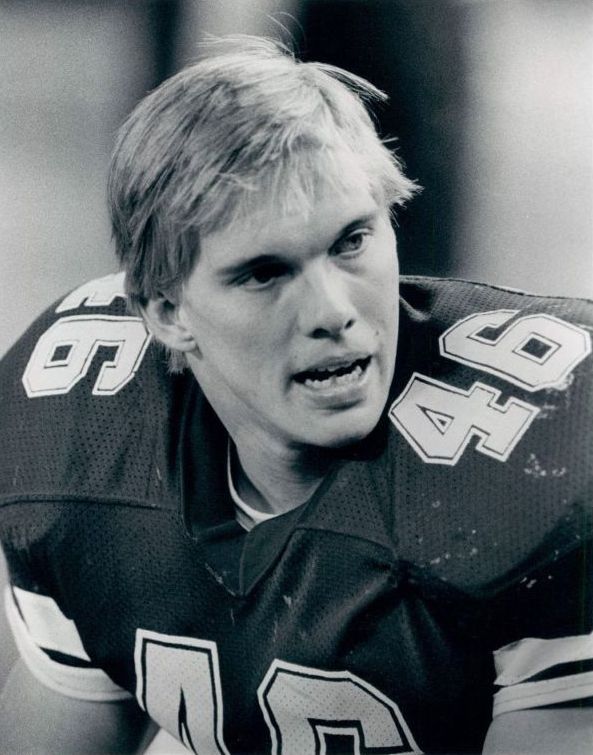 Back to the Game Used Museum Menu