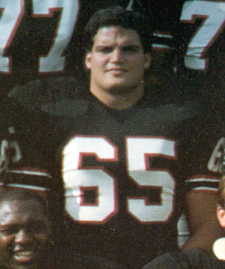 Born: July 6, 1959, Lawton, Oklahoma

Height: 6-04 Weight: 270

College: Nothern Illinois

Acquired: Signed by the Gamblers as a free agent in 1984

Pro Bio: Was a member of the Gamblers' offensive line during their 1985 campaign.

College Bio: A three-year starter for Northern Illinois (1977-79)... Started 27 of 28 games for the Huskies... Is one of four players from the 1979 Husky offensive line to go pro... Won the John P. Culpepper Award as a senior, symbolic of Northern Illinois' outstanding offensive lineman.

Personal: Earned three letters in football, wrestling and track at Cherokee High School in Canton, Georgia... Hobbies include hunting and fishing.