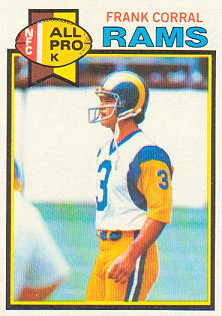 Born: June 16, 1955, Chihuahua, Mexico

Height: 6-02 Weight: 230

College: UCLA

Acquired: Signed by the Gamblers for the 1985 season

Pro Bio: Handled both kicking and punting duties at various times for the Gamblers during the 1985 season. Played for the Chicago Blitz in 1983 and the Arizona Wranglers in 1984.

Played for the Los Angeles Rams from 1978-1981. Released by the Rams on Sept. 6, 1982. Named to the Sporting News NFC All-Star Team in 1978. Drafted in the third round of the 1978 draft (78th player chosen) by the Rams.

College Bio: Played for the UCLA Bruins, and at one point, handled field goals, kickoffs and punting duties at the same time.

Personal: Attended Norte Vista High School in Riverside, California.