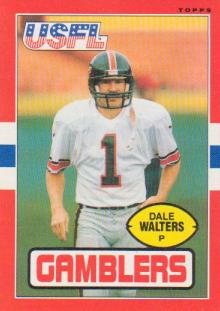 Born: June 21, 1961, Dighton, Kansas

Height: 6-00 Weight: 210

College: Rice University

Acquired: Selected by the Gamblers in the 1984 USFL Territorial Draft and signed on Jan. 21, 1984

Pro Bio: Played for the Gamblers both seasons of the team's existence... Punted in all 18 games for the Gamblers in 1984, and finished fourth overall in the Western Conference with a net punting average of 41.0... Had the fewest punts among any of the conference leaders with 64 in 1984... Longest punt was a 63-yarder versus the Federals... Did not have a single punt in game versus the Panthers on March 26... Named to the All-Rookie USFL Team by Pro Football Weekly.

College Bio: Returned to Rice in 1983 as the most experienced punter in the Southwest Conference... Also a kicker for Rice, scoring eight points in 1981 and 65 points in 1982... Played hurt with an ankle injury in 1982... Four-year letter winner... Holds record for longest punt in Rice history with an 84-yarder versus Arkansas in 1981... Logged 82 punts in 1982 with a 42.1 average... Longest punt in 1983 was for 61 yards.

Personal: Attended Grand Prairie High School in Grand Prairie, TX... Lettered four years in baseball and three in football... Lettered in baseball his first year at Rice in baseball as an outfielder... Dropped baseball to concentrate on kicking after his freshman year... Sports management major at Rice... Enjoys fishing, hunting and playing softball.

Houston-Gamblers.com Fun Fact: Dale's favorite player in the 1980's was Raiders punter/kicker Ray Guy!