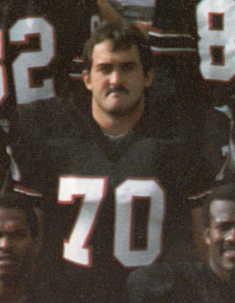 Born: November 17, 1961, Merkle, TX

Height: 6-04 Weight: 280

College: Texas A&M

Acquired: Selected by the Gamblers in the 1984 USFL Territorial Draft and signed on Jan. 22, 1984

Pro Bio: Veteran of both Gambler seasons... Started 17 games for the Gamblers during their inaugural 1984 season... Missed week 16 game against the Blitz after undergoing arthroscopic knee surgery... Considered the key player (at right tackle) in the club's offensive line.

College Bio: Was the lone senior in the Aggies' offensive line in 1983, and was named the team's Most Improved Offensive Player following the season... All-America as a sophomore... Started every A&M game since his sophomore year... Began freshman year as a defensive tackle... Says Coach Jackie Sherrill, "Tommy is an excellent athlete who has the opportunity to be a great player."

Personal: Was All-District, All-State and an All-American defensive lineman for Gregory-Portland High School... Player of the Year in Texas as a senior... Three-year high school starter... Management major at Texas A&M.