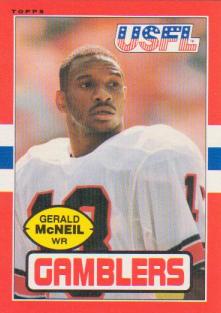 Born: March 27, 1962, Frankfurt, West Germany

Height: 5-08 Weight: 140

College: Baylor University

Acquired: Rights traded by the Gunslingers to the Gamblers for a 1985 second round draft pick on Feb. 2, 1984. Signed by the Gamblers on Feb. 16, 1984

Pro Bio: (1984 season) Started 13 of 15 games he played in during 1984... Missed three contests with a torn ligament in his right thumb, suffered during a practice session... Finished the years as Houston's fifth-leading receiver with 33 catches... Scored lone receiving TD at home against Oklahoma on May 20... Paced the team with 30 punt returns, the longest being 43 yards and a TD in the regular season finale against Memphis... Placed fourth in the Western Conference in the punt return category... Also had the USFL's fourth-best punt return average (10.8).

College Bio: Became Baylor's all-time reception and reception yardage leader in 1983... Complete his collegiate career with 163 receptions for 2,651 yards and 17 touchdowns... Broke records that had stood for 19 years... His 62 receptions in 1983 was second-best in school history... 1,034 yards in 1983 was best in school history... Had four 100-yard receiving games in 1983, and a total of nine in his collegiate career... Also handled punt and kickoff returns... Ran back 21 punts for 129 yards in 1983 for a 6.1 average, and three kickoffs for 50 yards... Caught at least one pass in 33 straight games for Baylor... Led SWC in receiving in 1982 and 1983... Voted Associated Press and American Football Coaches Association first-team All-America in 1983... AP and UPI Southwest Conference Offensive Player of the Year in 1983... AP and UPI first-team All-SWC choice in 1983... Competed in the 1984 Japan Bowl All-Star Game to end collegiate career.

Personal: Three-sport letterman at Killeen High School in Killeen, TX... Won three letters each in football and basketball and track... Ran on three state championship track teams... Communications major at Baylor.

Houston-Gamblers.com Fun Fact: Gerald's brother Pat played fullback on Baylor's 1974 SWC Championship team.