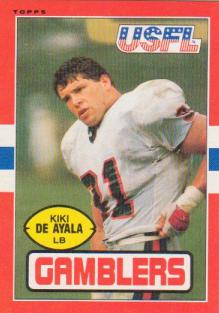 Born: October 23, 1961, Miami, FL

Height: 6-01 Weight: 226

College: University of Texas (Austin)

Acquired: Signed as a free agent in 1983

Pro Bio: Gamblers legend who anchored defense both years of team's existence... Voted first team All-USFL by the league's writers and broadcasters, as well as College and Pro Football Newsweekly... Made the successful transition from collegiate defensive end to professional linebacker... One of the few Gambler players to start all 18 games last season... Paced the team with 102 solo tackles, 39 assists, three sacks, one fumble recovery and one interception... The lone interception came in Houston's home opener against the Generals... Recorded two sacks in the marathon win in San Antonio... Has season high eight solo tackles in the Gamblers playoff loss to the Arizona Wranglers.

Sixth round selection of the Cincinnati Bengals in 1983.

College Bio: Three year letterman at Texas... Competed for the Longhorns from 1979-1982... Became an indomitable force on Texas' defense in 1981... Voted to the All-Southwest Conference second team in 1981... His quickness and intensity propelled him to national acclaim in 1982... Led the team in almost six defensive categories in 1982... Set a school record for most quarterback sacks in one season (23 in 1982 -- 45 career)... Team captain his senior year... All-Southwest Conference first team and Southwest Conference Defensive Lineman of the Year in 1982... Texas Player of the Game eight times that year... Also a third team All-American his final year... Won the University of Texas "Tenacity Award" at the Longhorn Football Banquet on February 24, 1982... Also Conference Player of the Week three times... ABC Player of the Game against Arkansas... Competed in the 1979 Sun Bowl, 1980 Bluebonnet Bowl, 1982 Sun Bowl, 1982 Cotton Bowl and the 1983 Hula Bowl... Texas Coach Fred Akers says, "DeAyala is a consistently fine, fine football player. I can't imagine a defensive end anywhere being better than Kiki. He's smart, experienced and he's a competitor."

Presonal: Lettered three years in football and two years in baseball at Memorial Senior High School in Houston... All-District and All Greater Houston in football... Also All-District in baseball... Member of the Sigma Phi Epsilon fraternity... Has four brothers, Carlos, Ralph, Michael and Nano, who all played football at Memorial High School... Former pre-teen Greater Dallas Swimming Champion and city of Rio de Janeiro Tennis Champion... Enjoys hunting, skiing, horses and playing tennis.

Houston-Gamblers.com Fun Fact: Kiki was the first player signed by the Gamblers!
Future Gamblers Kiki DeAyala and Darryl Clark propel Texas to a win over Lou Holz and Arkansas on Dec. 4, 1982.