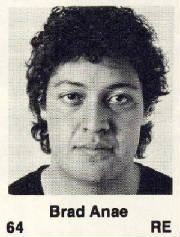 Born: October 3, 1957, Compton, CA

Height: 6-05 Weight: 250

College: Brigham Young University

Acquired: Gamblers' first selection from the Philadelphia Stars in the 1983 USFL Veterans Allocation Draft (Sept. 6-7)

Pro Bio: Was a member of the Gamblers' inaugural team through week 15, until June 8, 1984. Was signed by the San Antonio Gunslingers on Nov. 23, 1984. Participated in eight games, starting five. Logged 3 solo tackles, 7 assists and one sack during the 1984 campaign.

Signed as a free agent with the Philadelphia Eagles in 1982... Joined the Stars late in 1982 and competed in three games in the 1983 season... Best game was against Arizona on May 22, 1983 when he recorded four tackles and two sacks.

College Bio: Earned All-WAC honors in 1980 and 1981 as a Cougar... Was a third team All-American in 1981 when he started in the Holiday Bowl... Honorable mention All-American in 1980... Two-year starter at BYU after transferring from the University of Hawaii.

Personal: Lettered in football at Kahuku High School in Hawaii... Has done missionary work in Winnipeg, Canada... Resides in Laie, HI.