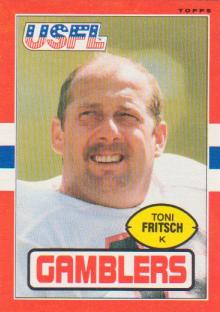 Born: July 10, 1945, Vienna, Austria

Height: 5-07 Weight: 195

College: None

Acquired: Signed as a free agent in 1983

Pro Bio (1984): Had the best year of his professional career , winning the USFL scoring title with 130 points... Tied league record with 12 consecutive field goals... Had the highest field goal percentage in the league (.807), connecting on 21 of 26 attempts... Of all the kickers who had 50 or more extra-point attempts in 1984, Fritsch was the most accurate, connecting on 67 of 69... Threw a memorable two-point conversion to Sam Harrell in club's victorious home opener against the Generals... 67 PATs set a new USFL record... Fritsch's 130 points eclipsed Herschel Walker's 128 points for the scoring title... Missed the two opening games of the season with a stress fracture of the left foot, which occurred during training camp... Named to the All-USFL squad by Pro Football Weekly... Four field goals attempted in the Arizona playoff game is the second-most in USFL history.

Spent 12 distinguished years in the NFL, originally signed by the Dallas Cowboys in 1971 as a free agent.... Appeared in two Super Bowls with the Cowboys (1971 and 1975 seasons)... Traded to the San Diego Chargers in 1976, where he played until released on September 12, 1977... Was signed by the Oilers a week later, and played with Houston from 1977-1981... Was the NFL's most accurate field goal kicker in 1980, connecting on 19 of 24 attempts for a 79.2% mark... 1980 marked the third year since 1977 that he was the top kicker in the AFC... His 21 Oiler field goals in 1979 set a new club single season mark... Released by the Oilers after the 1981 season, and played for the Saints in the strike-shortened season of 1982.

Personal: Played professional soccer for eight years with the Austrian National Team before coming to the United States to kick for the Cowboys... Was a perennial All-Star during his soccer career.

Houston-Gamblers.com Fun Facts: Toni's uniform number is listed as "4" in the 1984 Gamblers media guide. He is also wearing the number 4 in the 1984 team photo.