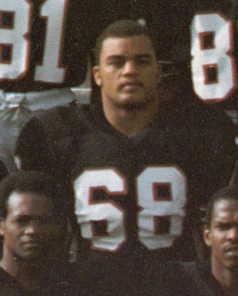 Born: February 23, 1962, Dallas, TX

Height: 6-03 Weight: 250

College: Texas A&I University

Acquired: Gamblers' territorial draft selection, signed on May 4, 1984

Pro Bio: Veteran of both Gambler seasons... Saw action in six games in 1984, starting two... Registered three quarterback sacks to go along with seven tackles and four assists in 1984... Sacks were against Jacksonville, Denver and Memphis.

Seventh round draft choice (196th player selected) of the Minnesota Vikings in the 1984 NFL draft.

College Bio: Started 11 games for the Javelinas in 1983, four at linebacker and seven at offensive guard... Voted first team Kodak All-American, first team AP All-American and first team All-Lone Star Conference as a guard in 1983... Received coaching staff's Best Blocker award from 1981 to 1983... Led team with 45 tackles at the linebacker position in first four games of 1983... Started 11 games as a guard in 1982 and again was voted to the All-Lone Star Conference first team... Also received AP All-American honorable mention in 1982... Started 11 games at guard in 1982 and was a second team All-Lone Star Conference choice...

Personal: Runs a 4.6 forty.