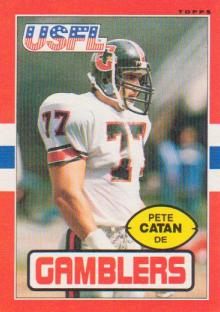 Born: November 12, 1957, Rochester, NY

Height: 6-02 Weight: 240

College: Eastern Illinois University

Acquired: Signed as a free agent in 1983

Pro Bio: Legendary USFL lineman was a veteran of both Gambler seasons... Started 11 of his 15 games with the Gamblers in 1984, missing the team's first-ever game because of contractual obligations with the Winnepeg Blue Bombers... Did not play in weeks 7 and 8 due to a left tricep injury... In 1984 Catan finished second in the USFL with 17 1/2 quarterback sacks and also logged two fumble recoveries... 1984 first-team All-USFL from the league's writers and broadcasters, as well as from the Sporting News... Returned a blocked field goal attempt 58 yards for a touchdown against the Wranglers to secure a win.

Three-year defensive standout for the CFL Winnipeg Blue Bombers (1981-1983)... Made 121 career tackles (91 solo) in a total of 41 games... Recorded 38 quarterback sacks and seven fumble recoveries... Western All-Star and team defensive MVP in 1982 when he logged 55 tackles (40 solo) and 18 sacks... Team's third leading tackler in 1982... Selected twice during the 1982 season as the Player of the Week... Missed five games in 1983 due to a knee injury.

College Bio: Captain and four-year letter winner (1978-1981) at Eastern Illinois... Three-year All-American... Associated Press honorable mention All-American in 1978... AP first team All-American in 1979 and 1980... Also a Kodak All-American in 1980... Voted Conference Defensive Player of the Year in 1979 and 1980... Holds school records for most quarterback sacks in a game (6), season (21) and career (47)... Also holds Panther marks for most tackles for losses in a game (5), season (19) and career (45)... Recorded 258 career tackles (146 solo), eight fumble recoveries and two pass interceptions... Won more honors and attention during his four-year career than any other player in the history of EIU.

Houston-Gamblers.com Fun Fact: Steve constructs remote controlled helicopters and cars as a hobby!