Richard Johnson was not supposed to be a pro football receiver. Standing only 5' 6" tall, a man of Johnson's size would normally be swallowed by much taller defensive backs -- not a good thing when a football is thrown your way. In Johnson's case, however, defensive backs were of little concern when they were left behind (sometimes way behind) thanks to his blazing speed and his ability to run incredibly precise route patterns. "Mouse" Davis recognized this, and featured Johnson as one of his primary receivers in the Gamblers' high-flying run and shoot offense. In return, Johnson led the USFL in receptions both years of the team's existence.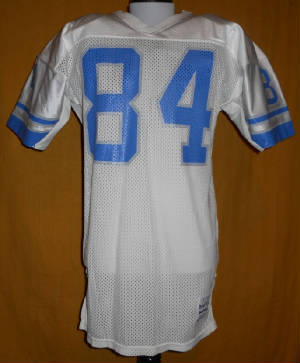 After his departure from the defunct Gamblers and USFL after the 1985 season, Johnson played briefly for the Redskins in 1987. Once again, how could a 5'6" receiver find sucess in a league like the NFL, where the best defensive backs in all of sports roamed the backfield?
Mouse Davis was gonna find out.
Now the offensive coordinator for the Detroit Lions, Mouse brought Johnson to the team in 1989 to see if lightning would strike twice. It did. Johnson responded to the chance in a big way, with 70 receptions and 1,091 receiving yards -- the second most yards in a season since the team's inception in 1929. His best game came against the much-feared Saints "Dome Patrol" defense, which he shredded for 248 receiving yards and a touchdown.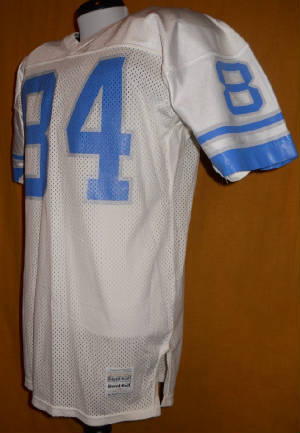 The jersey in our collection was game-issued to Johnson by the Lions in 1989, but appearently not worn because it lacks any signs of wear. Manufactured by MacGregor Sand-Knit in Berlin, Wisconsin, the shirt is a size 46 and has the proper exclusive Lions tagging in the left tail.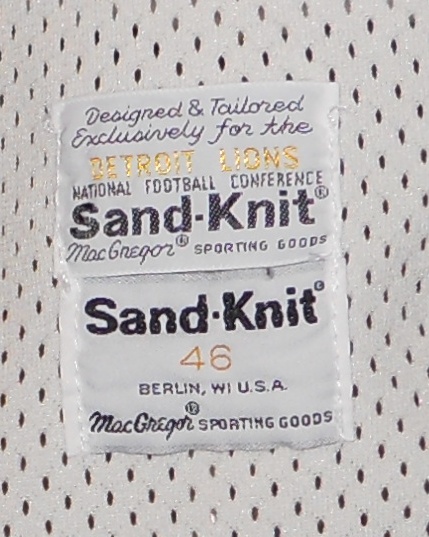 A side/rear view of the jersey, which displays the correct sleeve length and striping.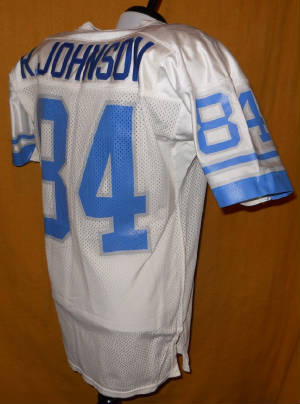 Lions jerseys from the era are interesting, with the numbers and sleeve stripes screened directly onto the shirts at the factory. The nameplates on the rear contain letters that have been sewn on, in a blue shade that is a bit darker than the blue color found of the rest of the jerseys.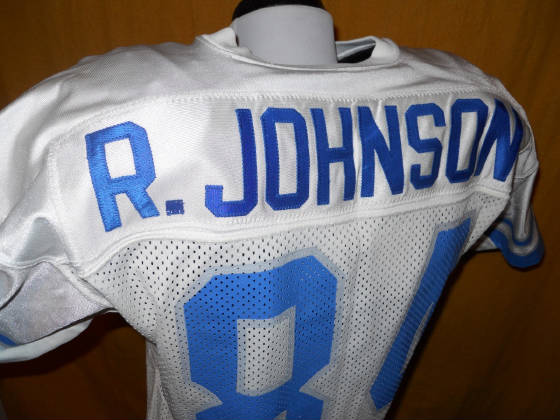 Richard's 1990 Fleer card shows him in action against the Bears at Soldier Field on December 10, 1989.
Back to the Game Used Museum Menu