Bryan Dausin played under head coach Jackie Sherrill for four years at Texas A&M. At 6'4" and 260 pounds, with the ability to run the 40 in under 5 seconds, Dausin may be considered a prototype offensive lineman of the era.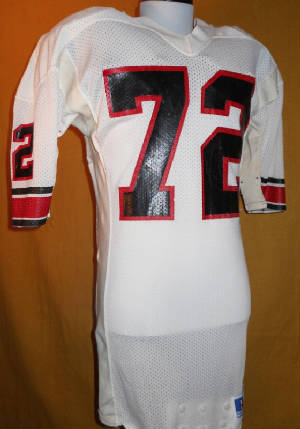 A front/shoulder view of Dausin's jersey. The majority of the wear centers on the upper portion of the shirt. The right shoulder has two repairs, while the right sleeve has a tiny repair near the base of the arm. The left shoulder exhibits another three repairs. The front numbers have a bit of contact scuffing, and the numbers on the left sleeve show moderate battle damage.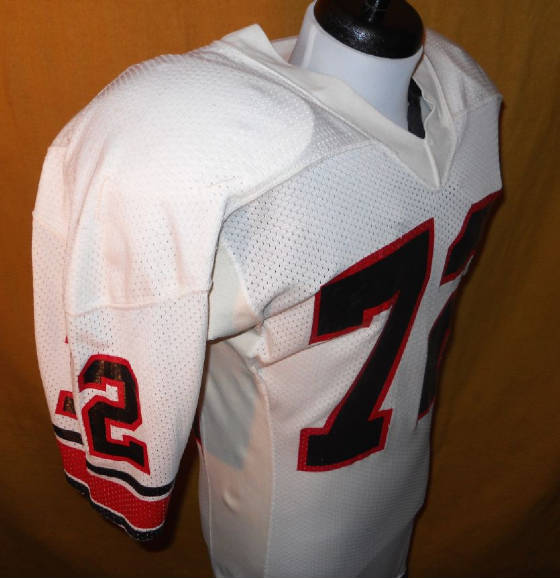 A rear view of the shirt, which displays the typical full-length nameplate and "rubbery" numbers (both of which were applied at a local Oshman's Sporting Goods store).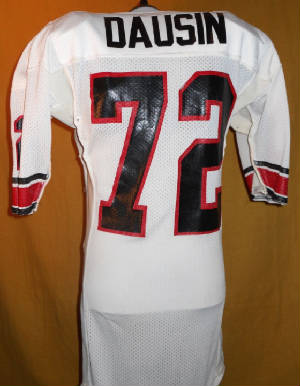 Another rear shot of Dausin's jersey, including a look at the spandex sides and undersleeves. The spandex undersleeves also include a series of holes (grommets) that can be laced together to tighten/shorten the sleeves. Shorter, spandex-cuffed sleeves have since replaced this configuration on modern college and pro football jerseys.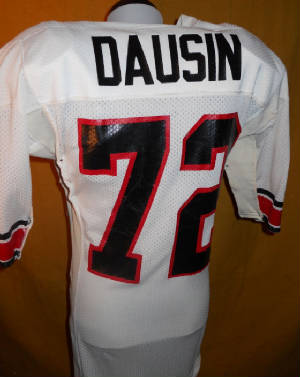 The bottom of the shirt features the typical Russell manufacturer's tag located at the lower right. Incidentally, the size "48" listed on the tag is irrelevant due to the spandex sides. This jersey also has a "crotch piece", which is a long strip of material that hangs from the rear bottom. It folds under the wearer and fastens to the front by a series of six buttons. The purpose of the crotch piece is to prevent the jersey from bunching and becoming untucked.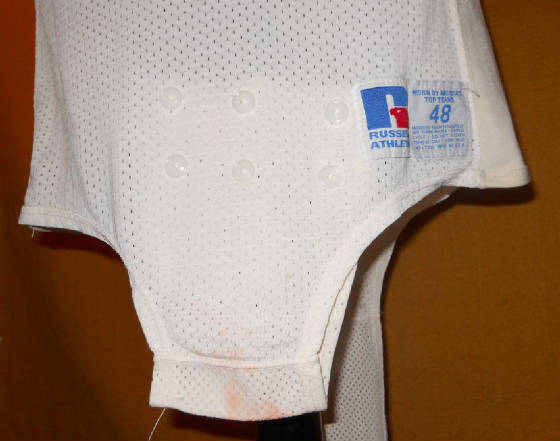 Back to the Game Used Museum Menu