Gamblers linebacker Willie Harper was one of the best defensive players ever to suit up for the Nebraska Cornhuskers. Harper was a one-man wrecking crew against LSU in the 1971 Orange Bowl, helping Nebraska win its first National Championship. He went on to assist the Huskers with winning their second-straight national title the next year, then ended his college career by starring for a Nebraska team that would win its third-straight Orange Bowl in early 1973. During his four year stint with Nebraska, Harper was awarded countless honors and awards, including multipe All-Americans and outstanding lineman awards.
Chosen in the second round of the 1973 NFL Draft by the San Francisco 49ers, Willie was converted to the linebacker position, where he was a mainstay from 1973 through the end of the 1983 season. He played a key role in the 49ers' first Super Bowl victory in 1982 with a decisive fumble recovery and solid overall defensive performance. He jumped to the USFL in 1984 by signing with the New Jersey Generals, and finished his pro playing career with the Houston Gamblers in 1985.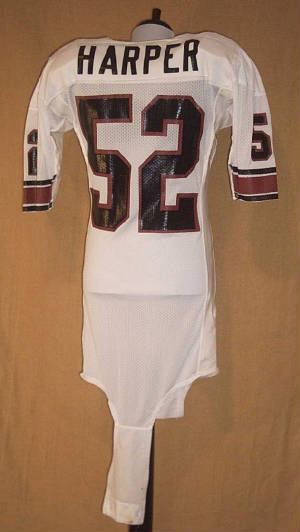 Like many other Gamblers linebackers and linemen, Harper opted to wear a jersey with spandex sides and undersleeves. The spandex undersleeves also featured a series of gromets that could be tied with string and tightened around the arms.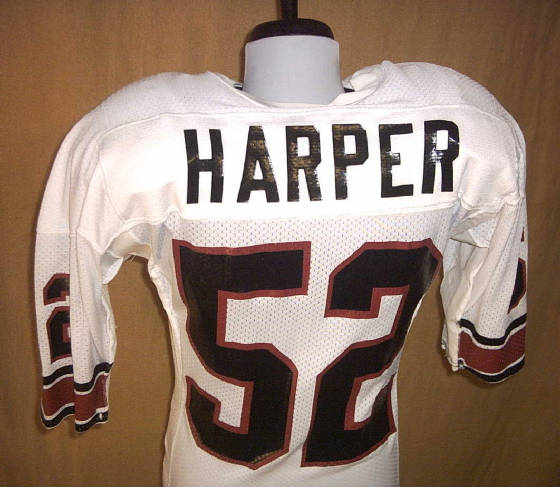 A frontal view of the jersey. Players normally wore jerseys with spandex sides to take advantage of the tight fit, and this jersey is certainly no exception -- it fits quite snugly on our mannequin and shoulder pads!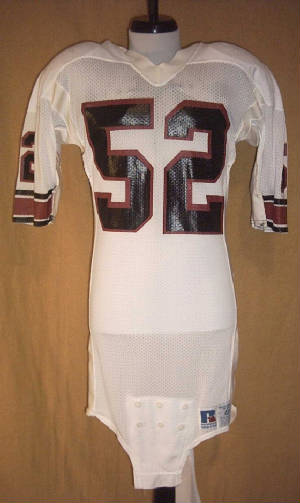 Another view of the jersey front. The shirt displays light game use, as Harper was a veteran reserve linebacker his lone year with the Gamblers. We looked closely to see whether former center Joe Bock may have also been issued this jersey the year before, but could find no evidence of a nameplate change.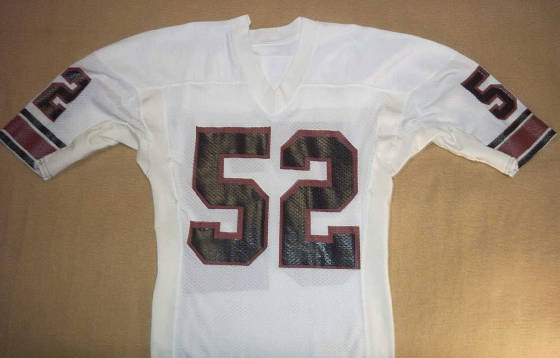 A closer look at the spandex side and undersleeve, as well as the gromets used to cinch the sleeve higher and tighter against the upper arm.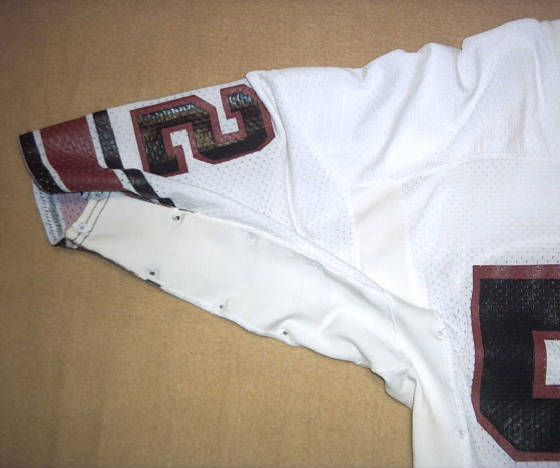 The bottom of this jersey features a "crotch piece" that wrapped from the back of the jersey and was fastened in front by three buttons (there are two rows to choose from). This prevented the jersey from becoming untucked or riding-up during gameplay. The size 48 tag on this remarkable item isn't really being truthful -- it probably fits closer to a size 40 thanks to the factory spandex modifications!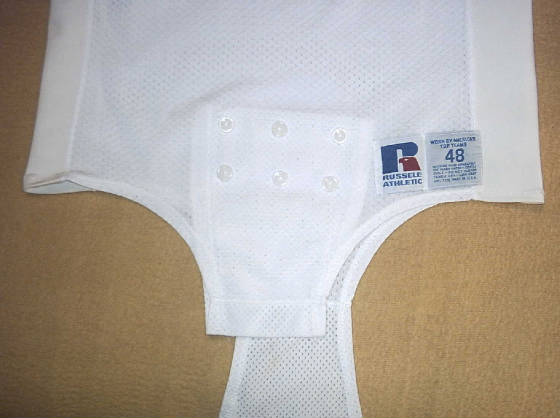 Back to the Game Used Museum Menu
View Willie Harper's Biography Page